Sign up for Västerås Summer Meet Pinup contest 2023 – is now closed
Friday 7th July
2 pm
Johannisbergs airfield
---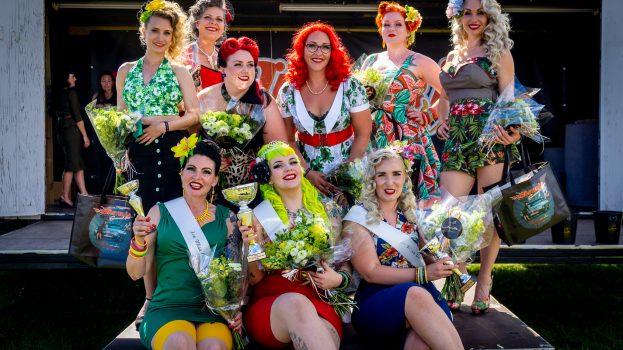 Foto: Gunnar Strand
During Västerås Summer meet 2023, we will arrange the popular Västerås Summer Meet Pin up contest again.
You will compete with clothes, hair and make up in retrostyle, and of course, a lot of charm!
The contest will be held in the area for everyone who is interested in the culture around the cars.
A jury will choose a "Miss Västerås Summer Meet 2023" and we promise you nice prizes.
A professional photographer will take photos of the winner. The winner will also be on 2024's meetsign, t-shirts, beerbottles…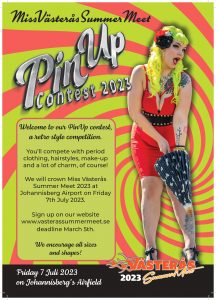 Rules of the competition
To participate in the contest you must be above the age of 18.
Fill in the formula where you tell us a little bit about yourself and post 2 pictures in true retro spirit, one portrait and one full body photo.
Last day for sign was 5/3-2023.
A jury will pick 21 contestants which will be presented on our website on 26 Mars 2023. Then everyone can vote about which ten girls they want to see in the final Friday the 7 th July at Johannisbergs airfield during Västerås Summer Meet 2023. If you get chosen to compete you commit to participate and be at Västerås Summer Meet by your own cost.
We at Västerås Summer Meet encourage participators in all sizes and forms!
If you want to join and sponsor the contest, donate prizes and more, you can contact us at info@vasterassummermeet.se