Restaurants and Rock´n Roll
Thursday, Friday & Saturday
Daytime to 6 pm
Johannisbergs airfield
---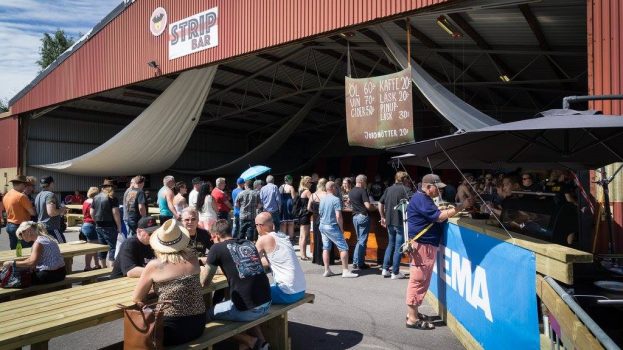 Foto: Gunnar Strand
There are both a café and a bar/restaurant out at Johannisbergs meetarea.
Flamingo Café will be open during the entire meet out at Johannisbergs airfield. You will there be able to get breakfast, take a light lunch like a salad, hot dogs or baguettes, take a coffée or buy ice cream and more. We have a big outdoor seating, but why not bring your own blanket and sit in the green grass outside and enjoy the company.
In our bar and restaurant, called Strip Bar, will we also serve tons of delicious meals. What about some hot chilli, pizza, some thai food or a steak? You will also be able to drink a beer or a glass of wine to your food!
You have to taste our private brewed beer as well Västerås Summer Meet 2022 Special Brew #4
, a light lager brewed by the local microbrewery ''Hantverksbryggeriet'' in Västerås.

Västerås Summer Meet Special Brew #3
At Strip bar there will be entertainment, every other hour a new band or troubadour will enter the stage and play.

Idol Gottfrid
This year we have so many good bands playing
Thursday 7/7
12:00 – John Wildcat
14:00 – Mike & The Rambler Cats
16:00 – Idol Gottfrid Krantz
Friday 8/7
12:00 – Rickard Swanström & Wackabandet
14:00 – Linus Zander & The west Coast Boys
16:00 – Blueshammers
Saturday 9/7
12:00 – Bambo Bombers
14:00 – Manic Mecanics.
16:00 – Liz & The Hurricanes.
We also present the bands and what times they will play  in our program ( it is of course only during Västerås Summer Meets opening hours out at the field).