Information from the police
Thursday, Friday and Saturday


---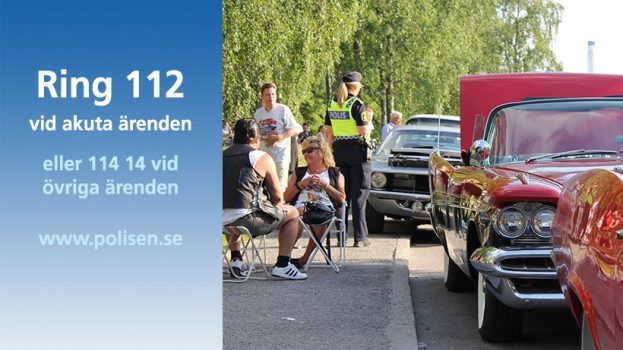 Are you going to participate in the car cruise during Summer Meet in Västerås?
This applies when travelling on the cruise line.
The maximum speed is 20 km/h
You can only bring as many passengers and place them in such a way that there is no danger, and that the vehicle can be transported
in a safe way
It is not allowed to travel on the hood, roof, luggage space or sitting on the backrest
Passengers should sit down in the car
The driver has the main responsibility for his/her passengers and luggage on the cruising route and for the vehicle to be carried
out in a safe way
It is permissible to travel on flatbeds if there are strong protective rails that are at least 110 centimeters
Burnouts are not allowed
The police work to make Summer Meet a nice, traffic safe and quiet event for all visitors and inhabitants of the city of Västerås.
We wish everyone a nice Summer Meet!
Contacting the police
The non-emergency number to the Swedish police is 114 14.
In an emergency, call 112.
Visit the police
The police are on site with a mobile office at Lögarängsvägen.
Office opening hours:
Thursday 15-01
Friday 15-01
Saturday 15-01